Reinvent your retirement
Canada Life -
Sep 26, 2022
Retirement can provide the opportunity to reinvent yourself and enjoy a new phase of your life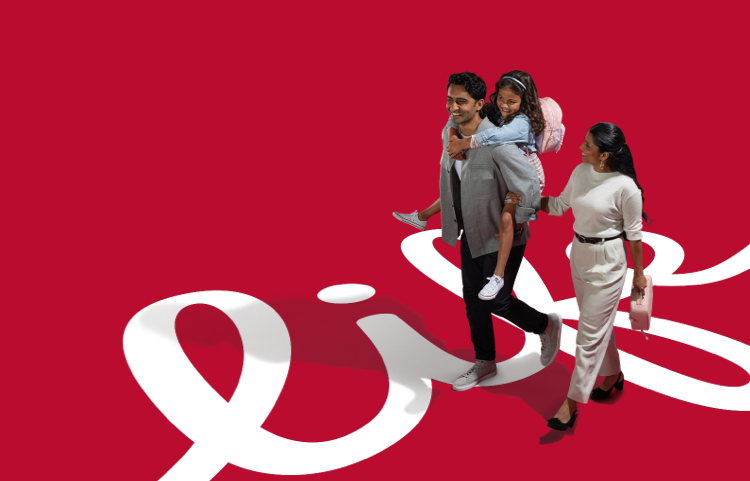 What does your retirement look like?
Closing the book on your working life and starting your retirement is a major life milestone.

There's no doubt that for many of us, a dream retirement involves plenty of time spent relaxing and spending quality time with friends and family. But if you're not the kind to sit still, transitioning out of work may signal the start of a new and more adventurous chapter.

If "traditional" retirement isn't for you, now could be the time to reinvent yourself as a globe-trotter, a volunteer, a hobbyist, a team captain, or chef extraordinaire. With a little inspiration, some planning and the right financial advice and preparation, retirement just might be your most exciting time yet.
Things to do in retirement
Maybe you already have a clear plan of what retirement looks like for you, or perhaps you're looking for ideas. Luckily there's no shortage of options if you're hoping to embrace a new way of life in your Golden Years:
Travel
Now that turning on your Out of Office is a thing of the past, you're free to plan the vacation of your dreams.

As a retiree, you can enjoy flexibility when it comes to travelling, which can be useful when booking at short notice or planning an extended stay. Whether your ideal getaway involves daytrips, a weekend break or long-haul treks around the globe, there's no time like the present to start making plans. There are lots of different ways to travel, too:
Adventure and activity holidays – Maybe now's the time for booking a cooking holiday, a biking tour, a golf trip, or a city break to see the latest theatre or concert. Combining your passions with travel is a great way to see the world while ticking things off your bucket list.
Start globetrotting – With no limits on your vacation time, you can now travel to far flung international destinations like Europe, South America, Australia or New Zealand. Not only can you schedule time for longer flights and connections, but you also have more time to adjust to jet lag - and of course, see everything there is to enjoy while you're there.
Explore Canada – If your ideal holiday involves staying closer to home, you could rent an RV and see Canada from the road, unwind in beautiful cottage country, or explore Provincial and Territorial parks nearby.
Relax and unwind – Ready to decompress? You could research spa holidays and all-inclusive resorts to find somewhere to relax and rejuvenate. This could be especially helpful in the weeks and months following your retirement when all the parties, handovers, and goodbyes are done.

Pursue your passions
If wanderlusting isn't your cup of tea, you can embrace the day-to-day by enjoying some hobbies and pastimes. Maybe you're ready to continue a lifelong passion or try something new, such as:
Baking
Walking
Learning a new language
Dancing
Gardening and/or growing your own produce
Reading
Birdwatching
Learning a musical instrument

Continue learning
Many retirees find that returning to education or discovering something new is a great way to continue a lifetime of learning. You could:
Hit the books – If you want to pursue a degree or diploma, many colleges and universities offer free or discounted tuition for seniors (aged 65 and over).
Take online courses – If you've always wanted to learn more about a certain topic, there are many online courses you can take that can be done at your own pace and from the comfort of home.
Learn for free – If you're not looking for anything formal but still want to expand your knowledge, why not check out free podcasts or TED Talks online? Make sure to look for Senior discounts or free entry at historic sites, museums, galleries, and science centres, too.

Return to work
If you like to keep busy and/or enjoy the social aspect of working, you may want to consider a seasonal or part-time job. Studies have shown that more and more retirees are choosing to go back to work, and depending on what you're looking for, you could return to work in the field you were in before retirement or choose something else completely. Popular jobs for seniors include working in retail, being a greeter or an event usher, tutoring, or working in gardening or landscaping.
Start your own small business
If going back to work for someone else doesn't appeal, why not consider freelancing or becoming self-employed? You could start a small business that gives you the chance to explore your passion as well as use your years of skills and expertise in a way that suits you. You could sell crafts or handmade foods or goods, fix cars or things around the house, or consider pet-sitting or dog-walking to help you get frequent exercise.
Focus on your wellbeing
Walking is just 1 of many great ways to incorporate exercise into your daily life. Staying physically active has numerous health advantages which can be beneficial especially in retirement, including boosting your immune system, reducing your risk of heart disease and stroke, keeping your bones and muscles strong and even keeping your brain sharp.

If you enjoy exercising and want to incorporate some socializing into it now that you're no longer going to work, you could consider joining a local team or club to explore sports like bocce, bowling, tennis, pickleball or golf. For something low impact, water aerobics, yoga, and swimming are great options.

It's important to also take care of your mental wellbeing as you start this next phase of your life. While retirement is an exciting time filled with opportunity, you may also feel overwhelmed with options when it comes to finding ways to fill your new-found free time. Looking for ways to manage any feelings of anxiety can help you take care of your mental wellbeing, as can having a plan in place to help you cope with change.
Buy a seasonal home
You could choose to spend your retirement between 2 places. You may want to become a "Snowbird" and have a second home to escape Canadian winters, or invest in a cottage somewhere to make the most of Canadian summers. Of course, whether this is doable financially will depend on whether you're able to purchase outright and if you want to avoid having a mortgage in retirement.
Volunteer
You may be passionate about a cause or charity, or perhaps you're looking to meet people and be active in your community. Donating your time is a great way to do this while making a difference, and there are plenty of places that welcome volunteers, including:
Food banks
Animal shelters
Churches and places of worship
Your local library
Community centres

How to pay for your dream retirement
Once you've got an idea of how you'd like to spend your retirement, you'll need a plan for how to pay for it.

A key thing to think about is how to make retirement savings last, especially if you plan to try new things or travel. One way to do this is to create a retirement budget. You'll need to consider plenty of factors when making this budget, including:
How long you plan to be retired
The average retirement age in Canada is now 64.4 years, but when you decide to stop working will be a personal decision that's unique to you. The earlier you dip into your retirement income, the longer it will have to last, but on the other hand you can receive more each year if you start drawing retirement income later. Retiring later also gives you a few more years to build up your nest-egg, too.

Determining roughly how long you'll need to make your budget last will help you break down how much you'll need to cover basic expenses, as well as any new activities you'd like to try.
If you've paid into a workplace pension
If you've contributed to a workplace pension at any point in your career, now's the time to think about how that pension will work in retirement along with other income sources like personal savings and investments. Remember that in addition to accessing a workplace pension, you may be eligible to receive government payments such as the Canadian Pension Plan (CPP), the Quebec Pension Plan (QPP), the Guaranteed Income Supplement (GIS), and Old Age Security (OAS).
If you're supporting any adult children
Many parents still provide adult children with some form of financial assistance, and you may have found yourselves among the many whose children moved back home and/or needed financial help during the COVID-19 pandemic. If this has impacted your retirement savings, it's important to take this into consideration along with if you'll need to provide any additional or continued help in the future.
How much you've saved for retirement
If you're experiencing worries over if you've saved enough to enjoy your later years to the fullest, you're not alone. Research has shown that nearly half of Canadians cite worries about having enough money in retirement as their top financial concern.

Having a clear picture of how much you've saved can help alleviate some of these worries, and working with an advisor can help you take an honest look at your finances to start building a picture of what your retirement budget may be. If you're still worried you haven't saved enough, you may choose to keep some of your money invested once you retire.
If you plan to keep investing your money during retirement
Even if you planned to save enough to retire throughout your working life, things like the COVID-19 pandemic and other factors have contributed to market volatility in recent years, and you may want to give your portfolio some time to recover. If you're able to, you may want to keep some of your money invested during retirement to help generate income and continue to grow your savings even after you've stopped work.
How you'll earn income in retirement
Once you've determined how much you've saved for retirement and where you've saved it, now's the time to figure out how to pay yourself with it. You may have personal savings you can use, you can convert your Registered Retirement Savings Plan (RRSP) into a Registered Retirement Income Fund (RRIF), generate income through a rental property or Airbnb, purchase an annuity, or leverage other assets such as your home.

Embracing retirement as a time for reinvention can help you get the most out of this stage of your life. Working with an advisor can help you draw up a plan to help you retire your way. Contact me to discuss how I can help you.